About
The ISLPL is a side project of mine that I have been working on for the past month and I wanted to throw it up in a guide real quick to separate its development progress from my other mod. This was built simply because there is currently no easy way to play locally with your mods without fussing with the in game console. The launcher essentially generates these commands that you would have to type into your console and starts the local match along with the mutators/map you have selected. Furthermore, since a lot of mutators have special configuration options that are needed for them to work properly, you have the ability to add those options directly from the launcher. Since the launcher has the ability to create profiles, you can switch between these profiles and quickly launch into a game with any variation of your mods and configurations. The launcher is still a work in progress so any feedback will be much appreciated!
Instructions
Download the launcher from the link below and create a folder for it (The launcher generates ini files in the same directory as the exe so the folder is to keep those files organized together). The folder does not need to be in your Insurgency directory, just put it somewhere you will remember :)
Open up the launcher and create a new profile (Not entirely necessary).
Open up the "Mutators" tab and check the "Subscribed Mods" section. If you do not see any mods, go to the "Settings" tab and check the instructions for locating your Mod folder. If you do see your mods, then you are all set.
Once your Mods show up, you can add the mutators from the list or add them manually. The Mutators in "Mutators in Play" will be the mutators that will be loaded when launching into a local game.
Then I would suggest going to the "General" tab and select the map and mode you are looking to play and go back to the "Profiles" tab and review the "Profile Overview" section to see if everything looks good.
Open up Insurgency: Sandstorm and once you get to the main menu Alt+Tab out of the game to get back to the launcher and press play on the launcher. If it does not load you into the match with what you configured, then go to the "Settings" tab and check the "Console Key" instructions to see if that is the issue.
You should be good to go now. Create as many profiles as you want as well as Mutator/Custom map presets that you can choose from between any of your profiles.
Screenshots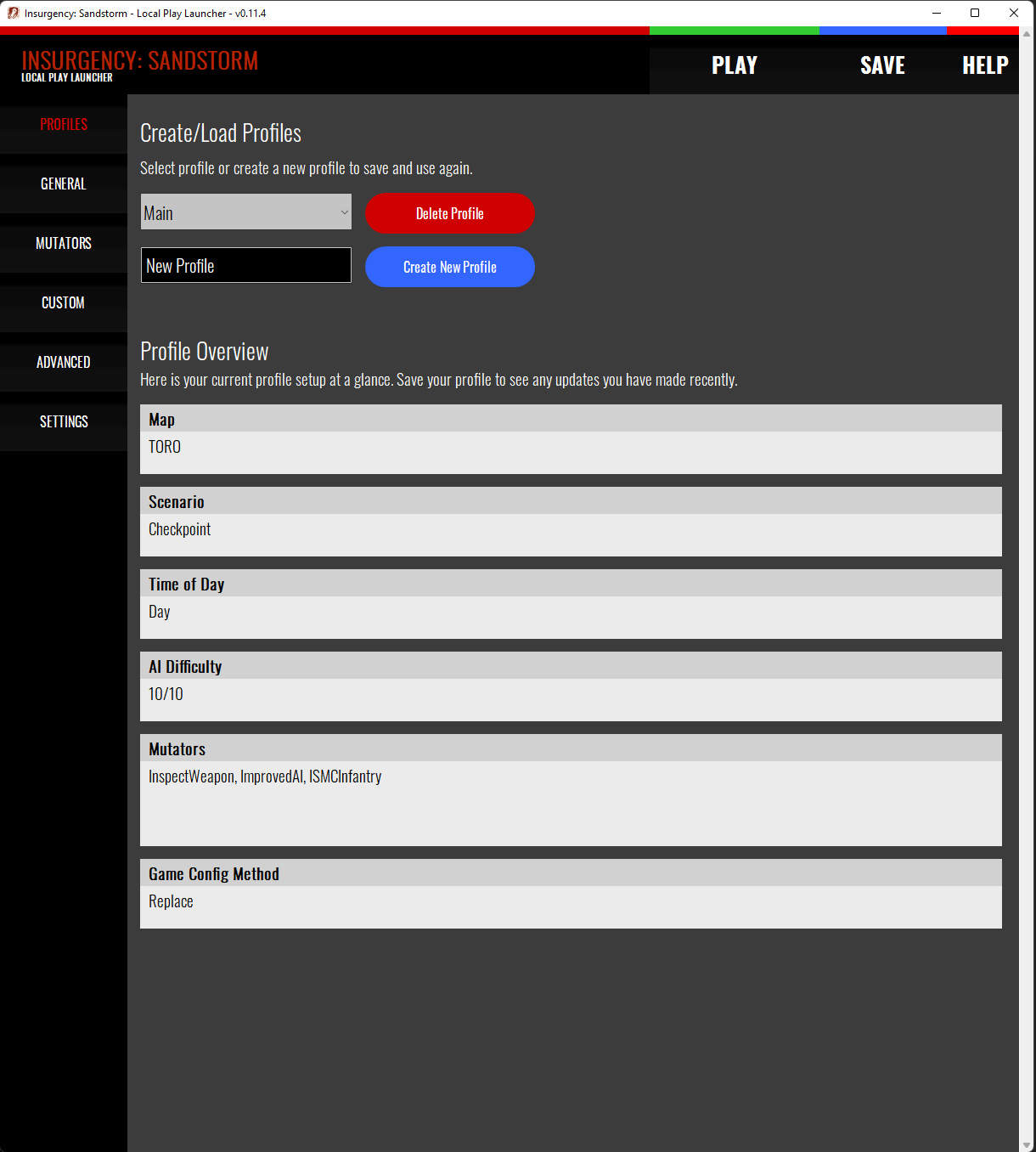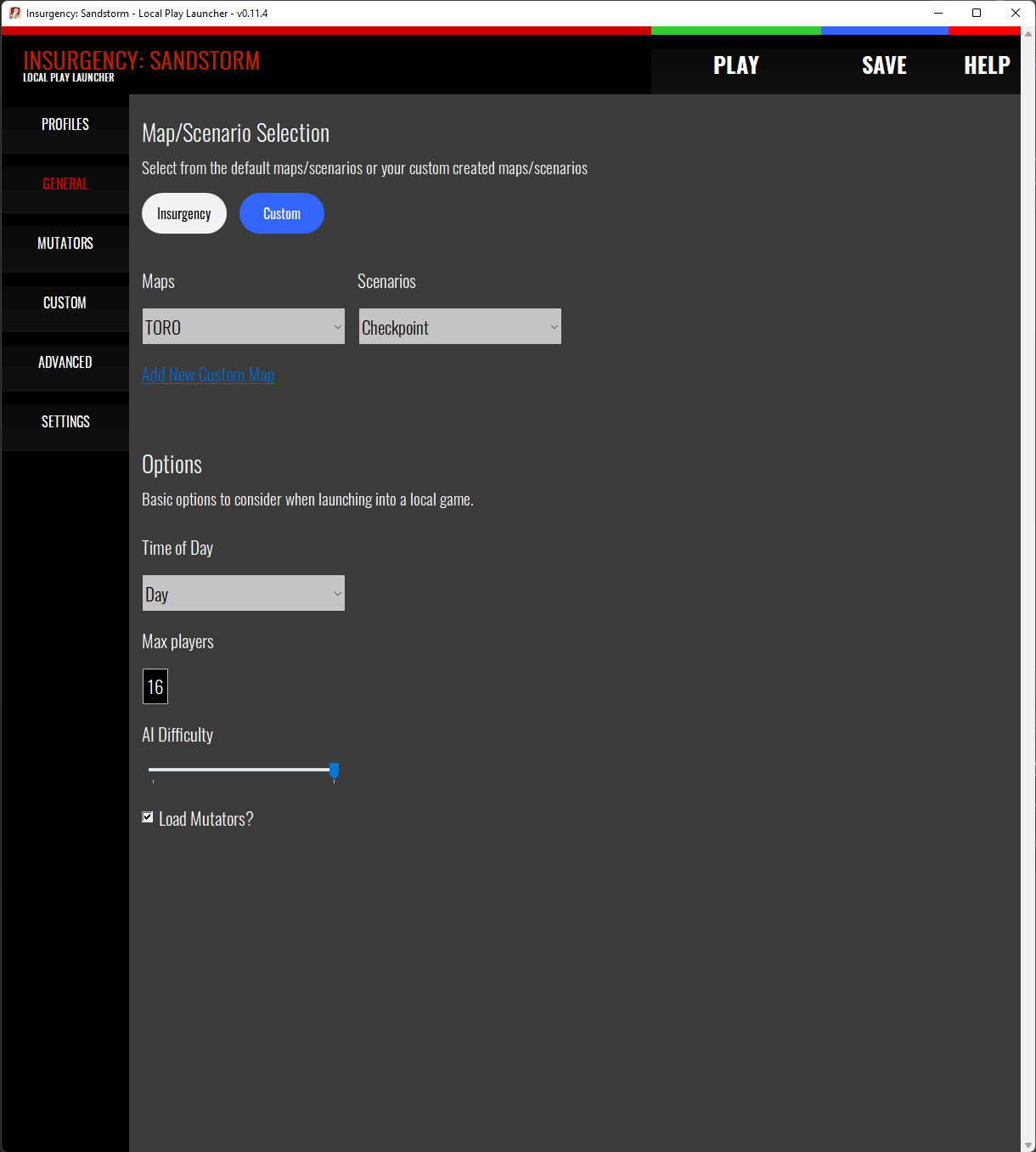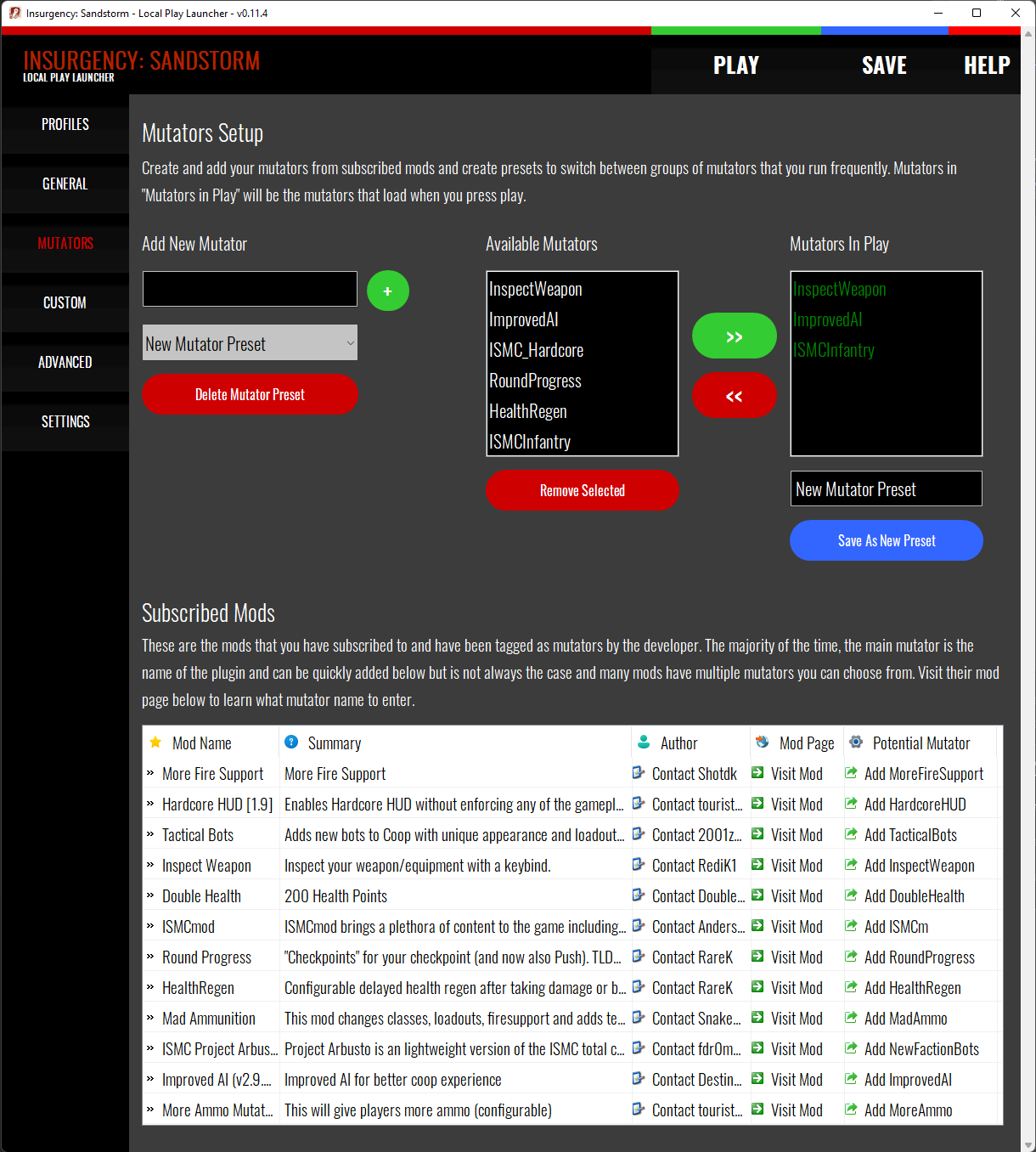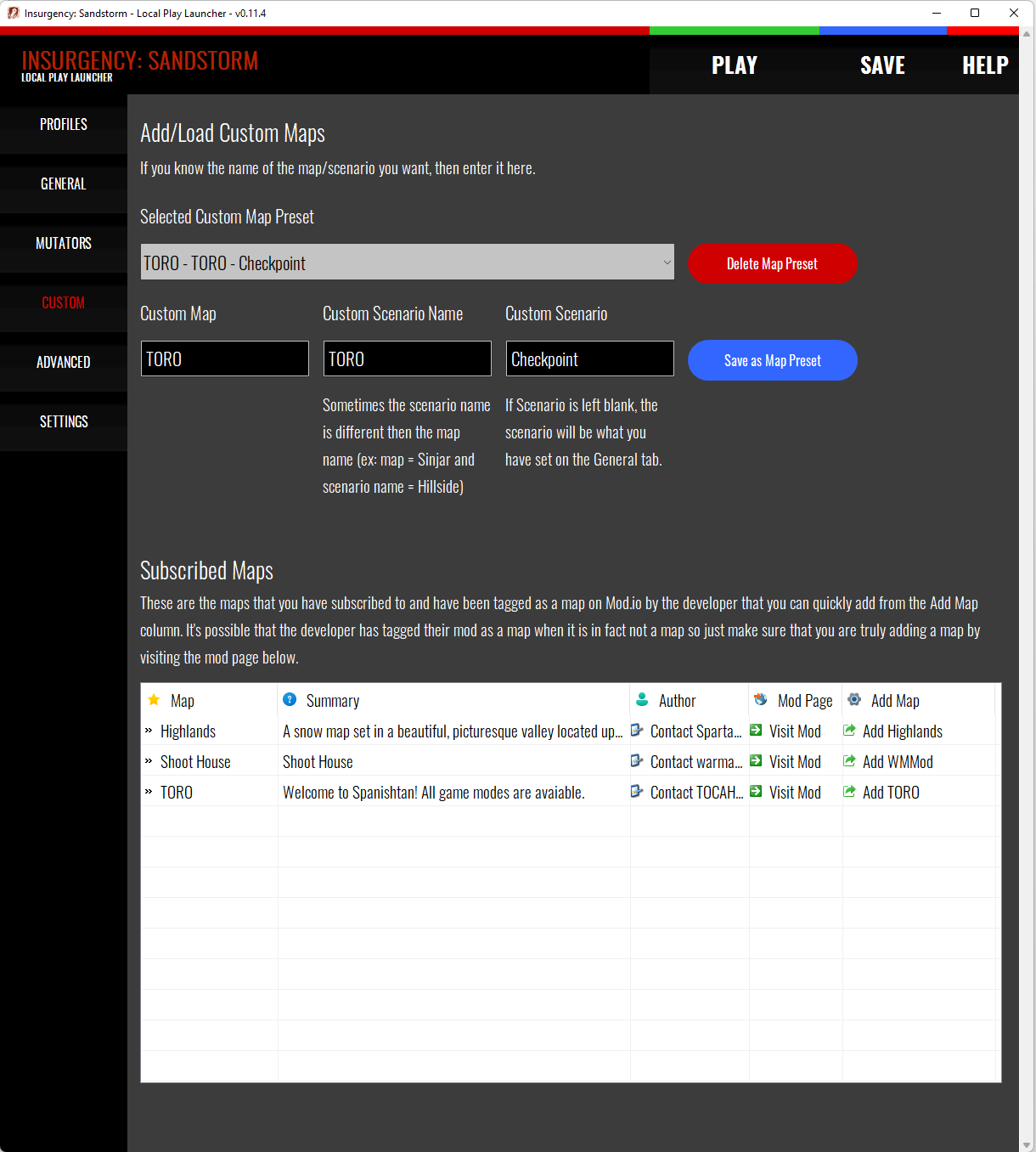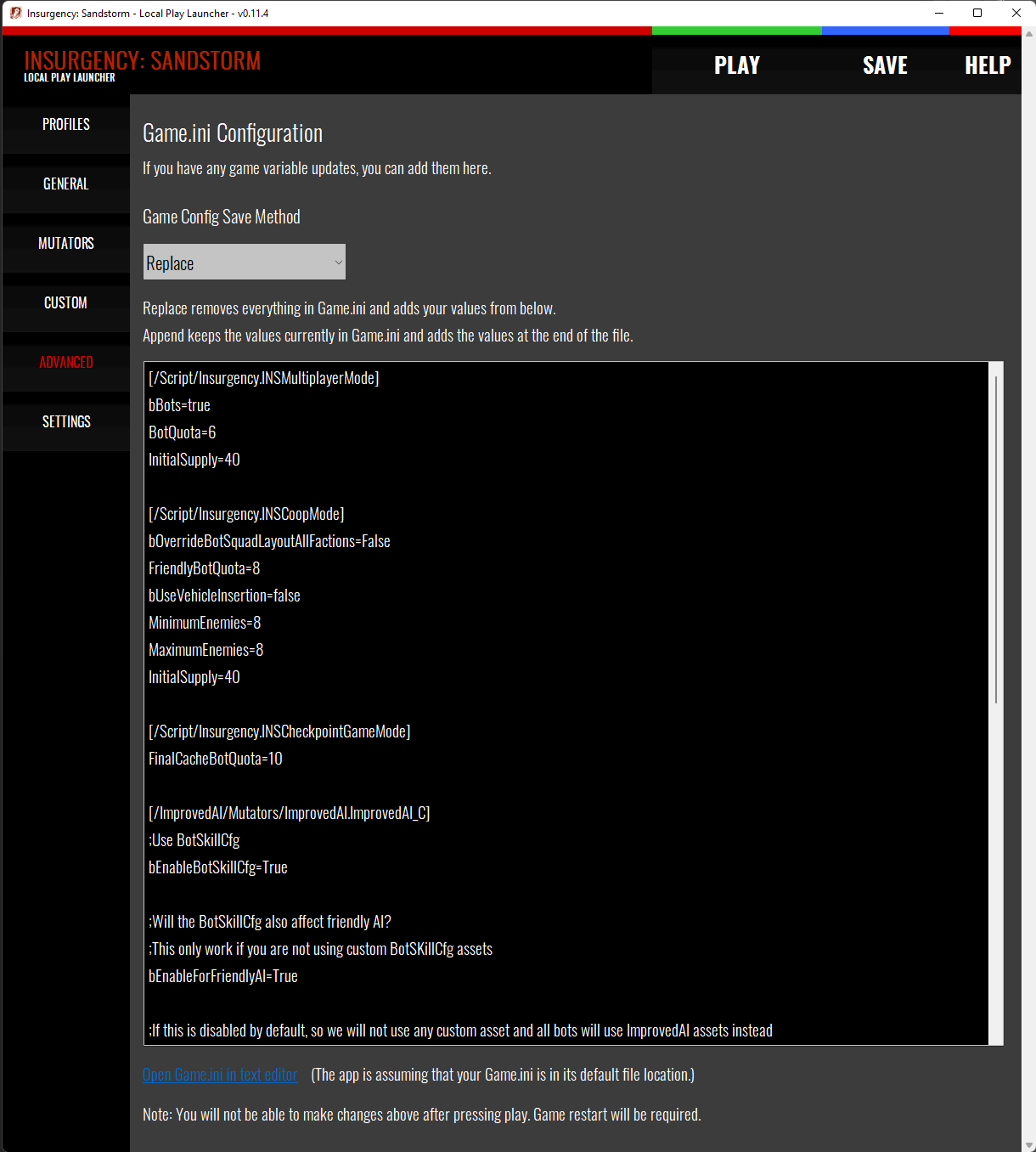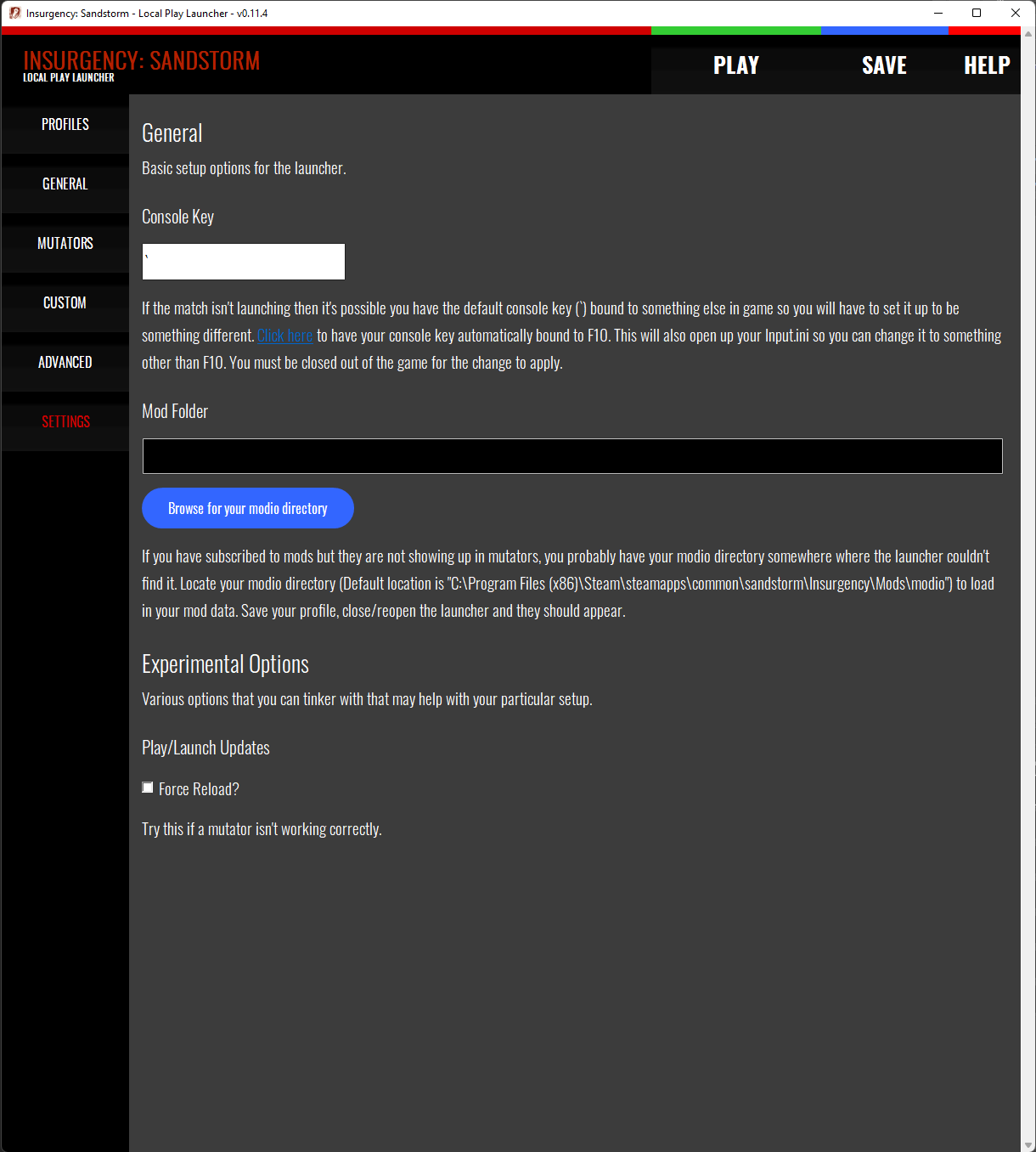 Download
Current Release
Previous Releases
Current/previous versions download directory
Future Update Plans
Add API so that maps/modes can be dynamically added from the community (This will help so I don't have to update the launcher every time a new map or game mode is added to the base game).
Add a more basic version of the "Advanced" tab to easily understand what the cvars do and develop an interface to easily add them to your profiles.
Make adding Custom maps a bit more seamless.
Allow for importing of configs so developers/community can create configs for the launcher.
Add Bot management functionality
Mod filters/search
Mod management (Subscribe/Unsubscribe/Etc)
Improved online community server browser (This may be standalone)
Changelog
Version 0.11.0
Themed the GUI to be more insurgency-ish
Version 0.10.0
Added functionality for you to select your custom created maps/scenarios from the "General" tab.
Version 0.9.0
Updated the Experimental tab and changed it to Settings with experimental options within.
Added functionality so that you can setup your console keybind automatically within the Settings tab if you use your back quote (tilde) key in game for something else. If you already have your back quote key setup for your console, then you don't have to do anything.
Added functionality so that you can manually locate your modio directory if your subscribed mods are not showing up within the Settings tab. You do not have to do anything if your mods are already showing up.
Version 0.8.0
Added a quick add method for pulling in your subscribed maps on the Custom tab. There is still a plan of simplifying this process a bit more in the future but I think this helps a bit.
Added the filters to both list boxes for Mutators and maps so that if a mod is tagged as a mutator, it will show in the Mutators list box and if it was tagged as any of the scenario types, it will show in the maps list box. I plan to give the player the ability to pick and choose filters in a future release.
Added a function for detecting the screen size so that if you are on a monitor 1440p and above, the launcher will show fully expanded horizontally.
Version 0.7.0
Started theming the launcher a bit and moved the play button to the top.
The Profiles tab now contains an overview of the profile that is loaded that shows a bit of information so you can see what will load when you press play.
Version 0.6.0
Updated Mutator tab significantly to make it a bit easier to hunt down the mutator names by including a list of subscribed mods and relevant information (Currently if your steam directory isn't in the default Steam location or in C:\Steam nothing will show in the list). The Mutator tab also includes functionality to create preset groups of mutators to switch between.
Added a new notification system next to the help button.
Added a "Load Mutators?" checkbox to the general tab if you don't want to load any mutators.
Version 0.5.4
Added better window detection to make sure the commands are for sure being sent to Insurgency.
Made sure the Force Reload option is unselected in the default profile.
Version 0.5.3
Added bSoloGame to launch vars to fix COOP friendly bots not spawning.
Version 0.5.2
Added Gap and Ambush to the General tab.
Added an example entry to the Advanced tab if the Defaults profile is loaded for the first time.
Fixed a bug with Append not switching to Do Nothing in some cases.
Version 0.5.1
Fixed an issue where the launcher didn't care if you answered no to wanting to delete your profile or not and deleted it anyway.
The launcher no longer reopens every time form values changed.
If you use the "append" method for writing to the Game.ini, it will automatically switch to "do nothing" after it writes to the Game.ini so you don't append to it again for future game sessions.
Version 0.5.0
Added the ability to create map presets that you will be able to select from regardless of the profile you are currently on. This will make it easier to change between your custom maps on the fly so you don't have to retype the custom map every time you want to switch to a map that you have already entered before.
You can now access your Game.ini from the "Advanced" tab.
Defaults will now be reset every time you update versions. This is to help prevent the form field values from breaking on new releases. Sorry if you have created your own "Defaults" profile! This is still a work in progress so breakage may occur between releases but I will try to at least mitigate it as much as I can.
Version 0.4.0
Added an "Advanced" tab that will allow you to either append to or replace the contents of the Game.ini with your own values. This will allow you to set up custom variables per profile. Keep in mind that appending to the Game.ini means that those values will stay saved in the Game.ini until removed manually so if you have values that are consistent between each profile just use the "replace" method and have those values in each profile. This is meant for a bit more advanced players that are familiar with the Game.ini. I'm hoping with a future update to make the process of adding custom configurations more user friendly. After pressing play, you can still make updates in the "Advanced" tab, however, a game restart will be required for those changes to occur. From what I am seeing, the Game.ini is seemingly locked into your system memory when you start a map (I literally deleted the Game.ini while in game and it still regenerated the Game.ini after I started a new level. It also reformats the file as well which is annoying because the appending method could be more advanced if it didn't mess with my comments).
Version 0.3.0
Full configuration profiles are available now so you are able to create a profile and then set all of your map settings / mutators and then save it to use at another time. I want to eventually make this more granular so you can have the same functionality specifically for mutators. Then you would load your profile and then load a mutator set and then press play but right now it's the entire configuration as a whole.
Version 0.2.0
Your previous configuration now saves after pressing play so when you close and open the launcher again, your previous selections/inputs will load in. This is the first step for being able to save/load custom configurations. This creates a file called "Defaults" in the same directory as the .exe so if you delete that file, you will lose your configuration but the launcher will still run fine.