At mod.io we value user-generated content highly, so any chance to promote and participate in events that reward creators and encourage mod making we are 100% for! Therefore, we are proud to announce that New World Interactive have kicked off a mapping contest for Insurgency: Sandstorm, and the submissions will be uploaded and judged using the mod.io platform. We kicked off the event with a live Steam with Epic which you can tune into below.
We are excited to see and share what the community comes up with, which you can browse right here (we expect it will take a few weeks for the submissions to start rolling in).
Level Editors
Whether you are an experienced level designer or a complete beginner, this contest is open to all abilities. You have over 20 weeks and huge incentive with the biggest prize pool seen in a New World Interactive contest, so we can't wait to see the incredible creations modders come up with.
If you are wanting some extra assistance with creating content for Insurgency: Sandstorm here are a few guides and documents to help you get started:
Everything you need to know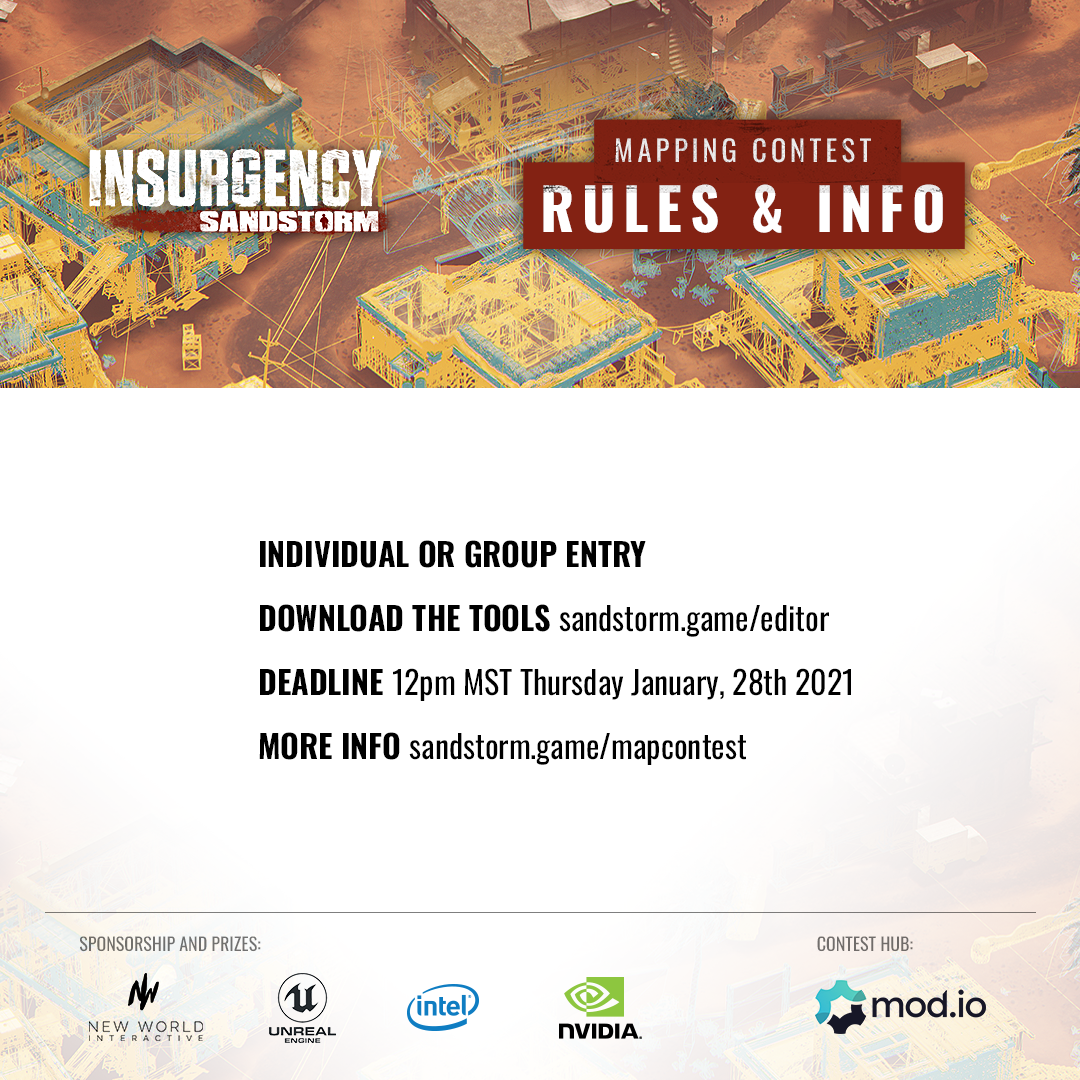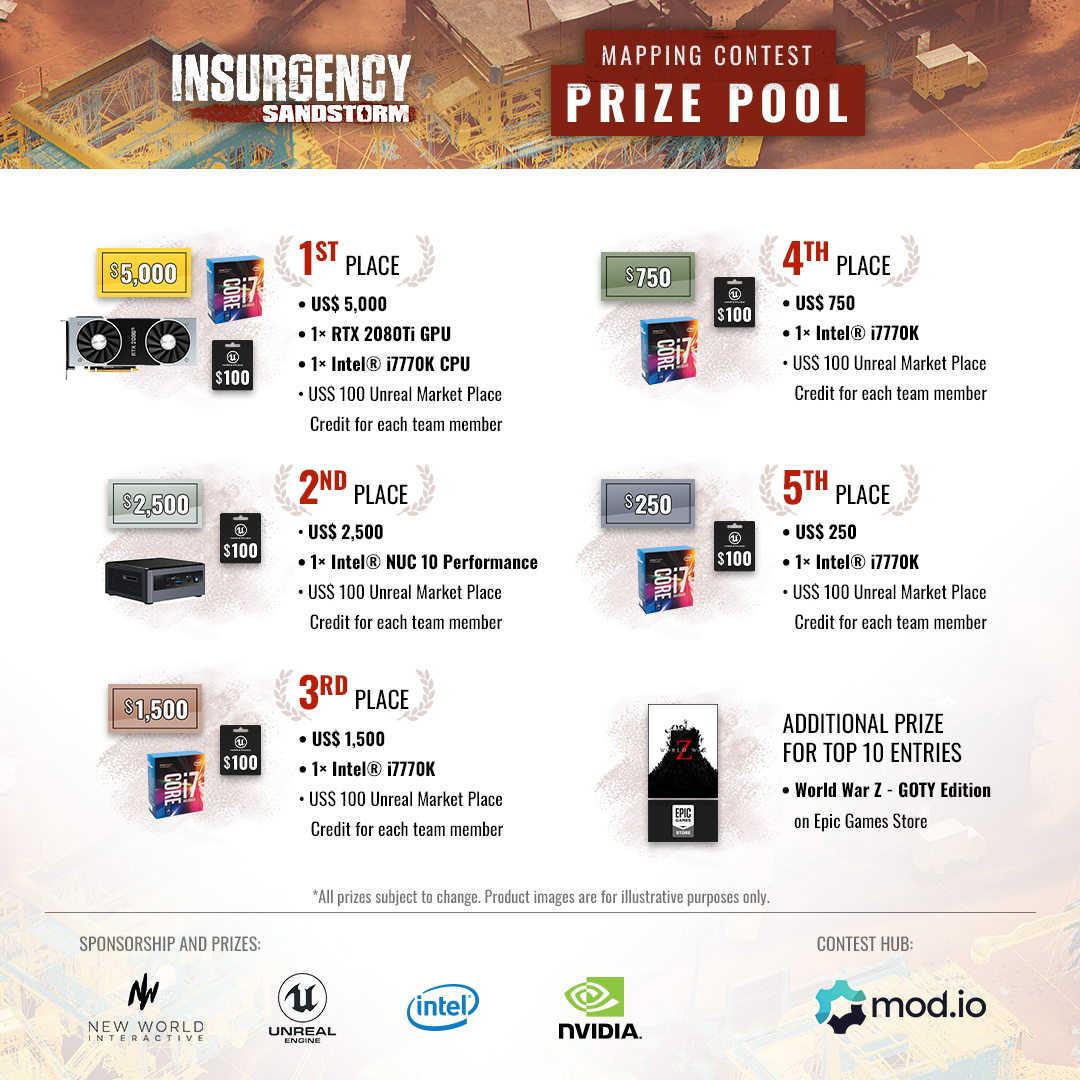 Participants will have 20 weeks from 2:00 pm ET on Thursday, September 10th, 2020, until 2:00 pm ET on Thursday, January 28th, 2021 to create, test, and upload a custom map for Insurgency: Sandstorm to mod.io. Maps will be judged by the public and team at New World Interactive for the chance to win a pool of over USD $17,000 in prizes!
To qualify the map must be an original piece of content created specifically for this contest. Remakes of existing maps from Insurgency or other games are not eligible, nor are any maps created before the launch date of this contest (September 10th 2020).
If you are working as a team or using any custom content you must ensure you have full legal permission to use any and all work submitted, as well as being legally able to grant permission for New World Interactive and contest partners to use the submitted entry if selected. This relates to all map content including the design/layout as well as any assets.
The submitted entry should support at least one of the following core game modes, Checkpoint, Push, Firefight, Domination, or Frontline, and must be playable with the selected game mode's default ruleset, as per our official playlists. Please clearly state in your submission which game mode(s) it was designed for. If the entry supports multiple game modes, please specify which mode(s) you wish to be judged on.
No changes may be made to the submitted map file during the judging processes, for that reason, it is important to thoroughly play test your entry before the deadline. We encourage participants to upload work in progress versions of their content to solicit player feedback early, as well as submit a final version of the project in advance of the deadline to ensure the file uploads correctly. No individual exceptions will be made to the deadline. This includes if you are unable to upload the file due to connectivity issues or forget to include any assets. Please do not leave your uploads to the last minute!
Given the limited timeframe, we encourage participants to think carefully about the size and scope of your entries. We are placing very few restrictions on entities in order to maximize creativity and are looking forward to being blown away by your entries, however, when it comes to judging quality is key.
You can find the full set of rules and eligibility criteria on the official games homepage.
Judgement criteria
All mods must be uploaded and tagged as "2020 Mapping Contest" on or before 2:00 PM ET on Thursday, January 28th, 2021 after this point no changes can be made to the entry until the final results have been announced. Tagging is essential so that we can identify mods that are exclusive to the contest.
On January 29th 2021, mod.io will reset ratings on all eligible submissions and a one week period of public testing and community rating will occur.
The public judging period ("Public Judging Period") will begin on January 29, 2021, at 12:00 AM ET and end on February 5, 2021, at 11:59 PM ET, during which Public Judging Period, the public will be invited to judge the Submissions by clicking the "Recommend" button on any Submission they believe should be in the 10 finalists.
The 10 qualifying Entrants whose Submissions have the highest result from calculating the number of Positive User Recommendations (Thumbs Up) minus the number of Negative User Recommendations (Thumbs Down), at the end of the Public Judging Period will be declared the finalists.
Judges
The 10 Finalists' Submissions will be judged by a panel of judges comprised of New World Interactive team members and Promotional Partners, who are experienced industry level designers based on the following judging criteria :
Gameplay (50 marks)

Visual Aesthetics (25 marks)

Performance & Optimisation (25 marks)
Prize Pool
1st place
USD $5,000

1 x RTX 2080Ti GPU

1 x Intel® i7770K CPU

$100 Unreal Marketplace credit for each team member(2)

1x Epic Game Store key for World War Z Game Of The Year Edition
2nd Place
USD $2,500

1 x Intel® NUC 10 Performance

$100 Unreal Marketplace credit for each team member(2)

1x Epic Game Store key for World War Z Game Of The Year Edition
3rd Place
USD $1,500

1 x Intel® i7770K

$100 Unreal Marketplace credit for each team member(2)

1x Epic Game Store key for World War Z Game Of The Year Edition
4th Place
USD $750

1 x Intel® i7770K

$100 Unreal Marketplace credit for each team member(2)

1x Epic Game Store key for World War Z Game Of The Year Edition
5th Place
USD $250

1 x Intel® i7770K

$100 Unreal Marketplace credit for each team member(2)

1x Epic Game Store key for World War Z Game Of The Year Edition
Runner-up (5 through 10) each to receive:
1x Epic Game Store key for World War Z Game Of The Year Edition
1 Model to be confirmed at the time of shipping
2 Maximum $500 per team
All prizes subject to change
Updates
For more updates on the contest follow our socials @modiohq and keep up to date with our blog posts. If you have any queries please contact support@mod.io or support@newworldinteractive.com